Denim Shirts
Our denim shirts are comfortable and long-lasting garments, providing a fresh and modern look to your business staff. Easy to pair with other pieces, this classic item never goes out of style.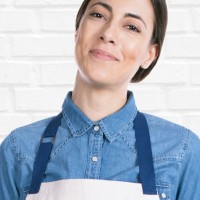 Cargando más productos...
At Qooqer, we love bringing the denim fabric to where it originally came from: the workplace. As part of our denim shirts collection, you'll find current-looking, trendy garments that work perfectly in a working environment.
Denim shirts are timeless pieces with such an especial look they are always in fashion. From the uniforms worn by the first factory workers, to the single style of the Hippies in the 70's, denim shirts always have a place. Their versatility is unique!
For us, denim shirts are the perfect way to bring a uniform to life. Easy to pair with other garments, you can use them underneath aprons or on their own, thanks to the resiliency of the fabric. The perfect marriage between style and durability we're absolutely crazy about.
Our denim shirts are handmade in Spain, using 100% organic cotton. At Qooqer we invest in the quality of the products made by hand to ensure your garment is able to keep up with your busy working shift without any problems.
All our denim shirts can be customisable with an embroidered logo of your business. Check all our customisation options and add your unique touch to all your Qooqer denim shirts.